Water jet Machining and Cutting
CALL OR CONTACT US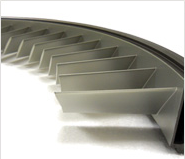 Phone: 850-983-8600
Email: CPYRITZ@TPR-SYSTEMS.COM


Create shapes and parts with flawless precision while minimizing maintenance time. Patented auto feed technology helps our water jet models work more efficiently and last longer than competing machines. Our Omax water jets can cut just about anything, including mild steel, stainless steel, titanium, aluminum, ceramic, plastic, foam, and copper.
We stock a wide variety of materials, use state-of-the-art machines and diligently follow all design specifications. We continually strive to improve and optimize our processes and maximize customer convenience. Our customers range from inventors to businesses to government agencies. We are focused on quality and customer service.
How waterjet cutting works
Waterjet cutting is a process that produces shapes by cutting sheet material using a thin, high pressure stream of water containing abrasive particles – typically 50,000 to 60,000 PSI and mixed with garnet abrasive. The sheet being cut is often submerged in a tank of water to reduce the resulting noise. The high pressure is created by a special pump designed for the purpose.
Advantages
Waterjet cutting is an economical way to cut a very wide range of materials with no tooling costs. The unique process provides reasonably good edge quality, no burrs and usually eliminates the need for secondary finishing processes. Waterjets also generate no heat so the material edge is unaffected and there is no distortion. No custom tooling is typically needed, making it economical for short and medium runs.