Precision 3 and 5 Axis Metal Machining,Honeycomb Seals,
EDM Work
CALL OR CONTACT US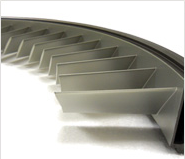 Phone: 850-983-8600
Email: CPYRITZ@TPR-SYSTEMS.COM


PRECISION MACHINING SERVICES
Custom Manufacturing and Machining
Industry Expertise Delivers Great Results.
With over 50 years' experience in the Turbine and Power Generation industries; TPR Systems, Inc is fully capable of handling your precision machining needs. Our facilities are equipped to handle most metal machining projects from start to finish in-house, which allows us to save our clients both time and considerable costs. Our facilities have the capability to handle the following:
Stainless Steel Manufacturing

3 and 5 Axis Machining

EDM Work

Waterjet Machining and Cutting

Honeycomb EDM Machining

Non-Destructive Testing – Dye Penetrant, Magnetic Particle
TPR Systems, Inc is not only a machining and manufacturing company, but can also do repairs and testing on existing equipment. All products repaired, manufactured, or fabricated within our facilities are put through the most rigorous set of inspections during production and after completion before being delivered to our customers. We are proud to offer the highest quality products with the absolute lowest tolerances possible in the industry for all our precision machine work.
Our facilities and staff also maintain a highly streamlined method of communication and unparalleled process control which enables us to provide an end product unmatched in quality.