Stator Vane Repairs and Replacement
CALL OR CONTACT US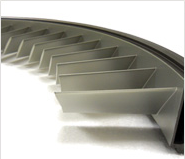 Phone: 850-983-8600
Email: CPYRITZ@TPR-SYSTEMS.COM


COMPRESSOR STATOR REPAIR.
Precision Repairs and Replacements
Unmatched Quality and Craftsmanship
TPR Systems, Inc was originally founded to provide repair services for Compressor Stators in the power generation industry. However, it became apparent to us in a very short time that to be able to properly repair and maintain stators at the highest level of quality, we needed the capability to manufacture stators as well.
Manufactured parts and/or repaired parts that we received from other vendors did not meet our strict standards.
Since acquiring manufacturing capabilities, whether a stator has been manufactured within our facility or just been repaired by TPR Systems, Inc, we are proud to say we now provide a product that is of the highest quality and the lowest possible tolerances.
Every replacement part is manufactured within our facilities from start to finish. Our Stator Parts go through a meticulous 1000 point inspection which uses a CMM four times throughout the manufacturing process. This means not only are our replacement parts manufactured and inspected individually, but once installed into an existing stator, the entire unit is carefully inspected as well. We still hold all stators leaving our shop to the highest quality standard which includes rigorous inspection regardless of whether or not the stator was manufactured in house or simply being repaired by our expert staff.
Our repair services include:
Crack Repair, and Replacement of Vanes for Compressor Stators:

Centaur and Taurus units – model 40's and 50's

Crack Repair, and Replacement of Blade Paths for Compressor Stators:

Crack Repair for Saturn Stators.
We are one of, if not, the only turbine manufacturing company in the country which offers vane and blade path replacement services to our customers. This innovative process can save our customers both time and money since replacing vanes or a blade path is much more cost-effective than purchasing a brand new stator.
We encourage you to contact us today to learn more about our Compressor Stator Manufacturing Capabilities as well as Stator Manufacturing, Precision Machining, Turbine Parts and Turbine Parts Repair, and Fabrication services. Contact Us or call (850) 983-8600.