Turbine Parts and Turbine Parts Repair
CALL OR CONTACT US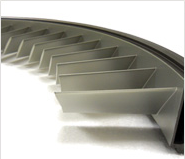 Phone: 850-983-8600
Email: CPYRITZ@TPR-SYSTEMS.COM


TURBINE PARTS AND TURBINE PARTS REPAIR
Turbine Parts, Repairs, and Turbine Services
Precision Manufactured Replacement Parts & Repairs
TPR Systems, Inc was established in 2002 to provide Turbine Parts and Turbine Parts Repair Services to our customers. It has been the backbone and driving force that led us to provide a large number of services we offer today.
We learned early about the importance of manufacturing our own replacement parts in-house and eventually were able to manufacture brand new replacement parts or entire replacement stators for certain model SOLAR turbine engines.
Because of our reputation of high-quality and impeccable precision machining, we have been successful in the stator repair and manufacturing market. Our dedication to continually bringing innovative and resourceful advances to the production process and/or the end product, has proven to our clients and the industry as a whole, that TPR Systems, Inc is a major player and puts the advancement of technology, production, and manufacturing and how it relates to the needs of our customers, above all else.
We currently provide stator replacements and perform repairs for the following compressor stator models:
SOLAR Centaur model  30's

SOLAR Centaur model  40's

SOLAR Centaur model  50's

SOLAR Saturn (repair only)

SOLAR Mars (repair only)
We encourage you to contact us today to learn more about our Compressor Stator Manufacturing Capabilities as well as Stator Manufacturing, Precision Machining, Turbine Parts and Turbine Parts Repair, and Fabrication services. Contact Us or call (850) 983-8600.